Judge
Please welcome our judge for this year's event. USCA National Breed Warden & USCA/SV Judge Heidi Theis. Our National Breed Warden is known for her detailed and complete critiques. Not only do we learn the good, but we also learn the areas that need improvement.
USCA/SV NBW Heidi Theis – All Dogs Male & Female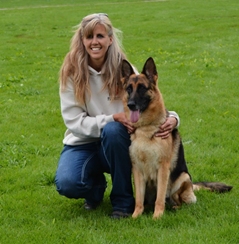 To all competitors this weekend, I wish you all the very best of luck and a stress-free, fun-filled weekend!
My name is Heidi Theis and I am the current USCA National Breed Warden (NBW) and Fully Licensed Performance Judge #48, Conformation/Breed Survey Judge #C4 for USCA. As the NBW, I serve USCA as a line officer and as the Chair of the Breed Advisory Committee (BAC). According to my guidance, the BAC collectively updates breeding regulations, breed survey or conformation show regulations, and makes decisions for our Sieger Shows.
I started training dogs as a Youth Member for USCA in the Summer of 1987, when I was 17 years old and I am the first Youth Member to become a judge for USCA! I trained and titled my first dog to SchH 3 but because there were not enough breed surveys back then, I unfortunately never had her breed surveyed. I truly enjoyed working that dog in sport and she helped me know early on that I wanted to become a Performance Judge for USCA one day.
Through my time at my first Schutzhund Club, in addition to learning how to train and title various types of working temperaments, I also learned to handle dogs in the show ring for the show line breeder who ran the club. After learning, I went on to handle for many years at the local, regional, and national levels. I was always full in every class when handled for those 25 years and back in the mid '90s to early 2000's, there were a minimum of 5 shows a year in my very close geographical area. Through this vast handling experience and hearing critique after critique, I learned two things. I quickly learned the German terms of their critiques, so I knew what the SV judges were saying and I also learned what structure looked like as they described the dogs through their critiques. It was a wonderful time to learn and be in the dog sport, I'm very grateful for those years.
Please enjoy my accomplishments in USCA thus far… super proud of that IGP-FH in 2022!
Current Training Director for local USCA PNW Club, Treasure Valley WDC in Middleton, ID
USCA Gold Sports Medal Recipient; 2001 North American SchH 3 Tracklayer
7-time member of USCA's SchH/IPO/IGP 3 club, 6 of these dogs are from my breeding
2010 PNW Regionals, 3rd place with *V-BeDarthVader vom Theishof SchH 3, FH 2, IPO 3
1999 SW Regional Championships, 8th place with *V-Briggitta vom Theishof SchH 3, IPO 3
Titles earned: 18 SchH/IPO/IGP 3, 17 SchH/IPO/IGP 2, 25 SchH/IPO/IGP 1, 2 FH 1, 1 FH 2, 1 IGP-FH, 33 BH,17 AD, 2 TR 1, 1 TR 2, 1 OB 1, and 1 WH
39 KKL 1/KKL 2/KKL/Ang. earned; 71 show ratings earned, including highest Sieger Show rating of VA on VA-10 Ax Redox SchH 3, KKL 1a
2009 USCA Sieger Show – 1st Annual Performance Award & V Show rating – *V-BeDarthVader vom Theishof SchH 3, FH 2, IPO 3
2014/2015 USCA Sieger Shows V with 4/5 performance on *V-Jill vom Theishof SchH 1, FH 1, IPO 3
2019 USCA Sieger Show V & Performance Award 4/5 on *V-Ennie vom Theishof IPO 1, IGP 2